According to History.com, there is speculation about who was responsible for coming up with the original idea of honoring workers. Two people are considered as possibilities for proposing a special worker's day: Matthew Maguire, who held the position of secretary of the Central Labor Union was one possibility, and Peter J. McGuire who cofounded the American Federation of Labor was the other.
What Caused the Creation of Labor Day?
During the Industrial Revolution, it was common for workers in the United States to work 12 hours a day, 7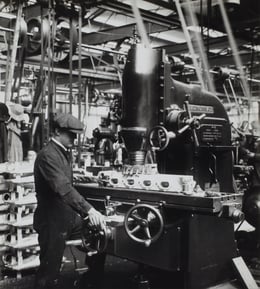 days a week. It was also common for young children to work wherever there was a need for help.
Working conditions were less than desirable in many situations for adults and children. These conditions included working environments that were unsafe, lacking sanitary facilities, and where fresh air was limited especially for those working in mines.
As conditions continued to remain dire, labor unions that were being formed became even more vocal through rallies. Unions also made their presence more visible with organized strikes in an effort to have employers address poor working conditions and renegotiate the number of hours an employee worked each day plus increasing their pay.
Unfortunately, during this time of worker unrest, which ran throughout the 1880s, violence was all too often the result of those who participated in strikes and rallies. One of the best-known incidents was the 1886 Haymarket Riot that resulted in the death of workers and policemen in Chicago and the trial and execution of four participants.
In May of 1894, workers in Chicago participated in the Pullman Railway Union strike, which ultimately brought commerce to a halt in 27 states. Troops were dispatched to the city, which made matters worse by inciting more riots resulting in the numerous deaths.
The following month in Chicago, more incidents took place to draw attention to the worker's plight. Incidents include the derailing of a locomotive that hauled cars carrying U.S. mail along with multiple fires set to numerous buildings.
After this last incident in June, Richard Olney who held the position as Attorney General, requested an injunction be granted from the federal government against the striking members and their leaders.
When was Labor Day Designated a National Holiday?
After the incidents of 1894, President Grover Cleveland signed into law the creation of Labor Day as an official national holiday.
Why Labor Day is Important?
The premise of creating a special day for workers was to acknowledge and celebrate each worker who contributed to the workforce as well as celebrate their individual achievements in their job.
Where Was Labor Day First Implemented?
Workers from all trades in New York City showed their support for the working masses on September 5, 1882, with a parade through Lower Manhattan of more than 10,000 people. The parade noted the first unofficial celebration of Labor Day.
The focus of the founders in the 1800s was to pay tribute to workers in all trades. Today, that idea is still the focus American workers celebrate every year on the first Monday of September.