COVID-19 Vaccinations and Trying to Apply for a Job
For those currently looking for employment the COVID-19 vaccination rollout could be a gamechanger in several different ways.
First, there is hope on the horizon that as more Americans get vaccinated, the economy will open back up, and along with that reopening more jobs should come in the pipeline.
In the near term the staffing demands for the COVID-19 vaccinations has motivated some companies to go on hiring sprees. Those job seekers with healthcare backgrounds are in high demand for openings that range from full-time to part-time to temporary.
Finally, for those currently applying jobs, they need to check the posting requirements carefully as some positions, especially those in essential worker fields, which can range from grocery store workers to food service to housing construction are requiring applicants get a COVID-19 vaccination before their first day on the job.
Pent-up Demand to Help Job Outlook as More Get Vaccinated
According to NPR as of February 23, 2021, "Since vaccine distribution began in the U.S. on Dec. 14, more than 64 million doses have been administered, reaching 13.3 percent of the total U.S. population, according to federal data collected by the Centers for Disease Control and Prevention. The U.S. is currently administering over 1.6 million shots a day."
Cornerstone Macro chief economist Nancy Lazar told FOX Business on Feb. 3, 2021 that, "You have more and more pent-up demand that will not just help here in 2021, but also 2022. So, the job outlook is going to get just even stronger."
Some are convinced that the economy is already starting to heat up as the vaccination rate climbs. Russ Wiles in the Arizona Republic on Feb. 21, 2021 wrote: "With virus numbers tapering off as vaccinations climb, the economy is coming back. Consumer spending is ramping up, businesses are reopening and profits are surging."
Vaccination Rollout Hiring Spree
The New York Times reported on Feb. 12, 2021 that the federal program that is sending more COVID-19 vaccine doses to grocery store pharmacies and drugstores is creating a hiring spree.
According to the article, companies hiring include:
Rite Aid 2,000 pharmacy jobs.
Kroger 1,000 healthcare workers.
Hy-Vee 1,000 pharmacy technicians.
Walgreens 1,500 pharmacists, pharmacy technicians and nurses.
CVS already ramped up 15,000 extra employees but T.J. Crawford, CVS spokesman, told the New York Times, "CVS would keep hiring as the vaccine supply rose and more stores offered shots."
Locally, job seekers should be on the alert for vaccine-related openings, especially those general assignment positions that do not require frontline healthcare worker experience.
Indeed.com, for example, currently returns a search result of 18,201 jobs for the term "vaccination support".
An example of some of those non-technical openings:
Vaccine clinic support that needs patient service coordinators (general admin support), runners, greeters, screening assistance and contact tracing.
Vaccine clinic data entry/front desk.
Vaccine clinic seeking temperature screeners, greeters, and navigational support staff.
Administrative support specialists – COVID-19 vaccination for health department
Spanish/English Bilingual Vaccination Info Call Center Representative
Patient Registration Representative.
Essential Workers Should Get Vaccinated
Keep in mind that if you are seeking a job as an essential worker, you may be required or encouraged to get vaccinated.
The CDC recommends essential workers be included among those offered the first supply of COVID-19 vaccines based on recommendations from the Advisory Committee on Immunization Practices.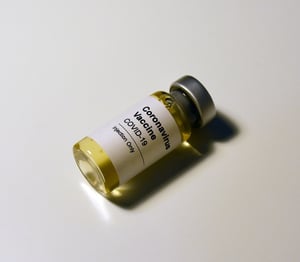 Essential healthcare workers were naturally included in Phase 1a, the first group to be offered the vaccination.
CDC says the following frontline essential workers should be vaccinated on Phase 1b:
Fire fighters
Police officers
Corrections officers
Food and agriculture workers
United States Postal Service workers
Manufacturing workers
Grocery store workers
Public transit workers
Education sector workers (teachers, support staff, daycare workers)
Others essential workers should be vaccinated in Phase 1c:
Transportation and logistics
Food service
Housing construction and finance
Information technology workers
Communications
Energy
Law
Media
Public safety
Public health
Contact The Personnel Response Team (PRT) today about our unmatched, comprehensive staffing solutions.