Avoiding the Costly Mistake of Making a Bad Hire
Making a bad hire is something that companies obviously want to avoid, yet nearly three in four have admitted to making this costly mistake.
"When it comes to costly workplace mistakes, few carry as hefty of a price tag as making a wrong hire," according to a CareerBuilder survey.
The CareerBuilder survey was conducted online by Harris Poll and included a representative sample of 2,257 full-time hiring managers and human resource professionals and 3,697 full-time workers across industries and company sizes in the U.S. private sector.
"It's important to note that there's a ripple effect with bad hires. Disengagement is contagious — poor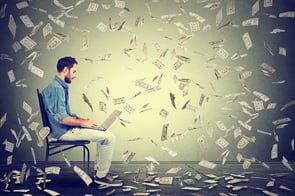 performers lower the bar for other workers on their teams, and their bad habits spread throughout the organization," said Rosemary Haefner, chief human resources officer at CareerBuilder. "The best thing hiring managers can do is put in the time and effort on the front end to make sure they have the best available pool of applicants for every job opening. And, just as importantly, have good procedures in place for evaluating candidates."
How to Know You Have Made a Bad Hire
Overall, 74 percent of the employers in the survey said they had hired the wrong person for a position before and knew it was a bad hire when:
The worker didn't produce the proper quality of work (54 percent)
The worker had a negative attitude (53 percent)
The worker didn't work well with other workers (50 percent)
The worker had immediate attendance problems (46 percent)
The worker's skills did not match what they claimed to be able to do when hired (45 percent)
When asked how a bad hire affected their business, employers cited:
Less productivity (37 percent)
Lost time to recruit and train another worker (32 percent)
Compromised quality of work (31 percent)
"Given the perceived labor or talent shortage, the pressure is on for HR and recruitment professionals to make the best hire possible 100 percent of the time," wrote Mason Stevenson in HR Exchange Network. "Doing anything less can cost the company in a multitude of ways.
The True Cost of a Bad Hire
The CareerBuilder survey said that companies lost an average of $14,900 in the previous year on every bad hire made.
That figure could even be much higher if you considered the following:
"Most organizations underestimate the cost of a bad hire because a single bad hire can impact an organization in a variety of ways," says the Brandon Hall Group "The True Cost of a Bad Hire" research brief.
Why Does a Bad Hire Get Made?
Perhaps the best way to avoid making a bad hire is to examine why companies make bad hiring decisions.
In the CareerBuilder survey, employers thought they made a bad hire because:
They were mistaken that the candidate could quickly learn skills they were lacking (35 percent)
The candidate lied about their qualifications (33 percent)
They took a chance on a nice person (32 percent)
There was pressured to fill the role quickly (30 percent)
The company had a hard time finding qualified candidates (29 percent)
Hiring process focused on skills and not attitude (29 percent)
Warning signs in recruitment and interviewing were ignored (25 percent)
Company lacked adequate tools to find the right person (10 percent)
A complete background check was not conducted (10 percent)
"Recruiting and hiring good employees are arguably the most critical aspects of running a business. Finding the right candidates is crucial: After all, if you're not hiring the right people to begin with, your ability to succeed in nearly everything else you do will be greatly compromised," writes CareerBuilder.
Three Keys to Avoiding Making Bad Hires
There are many things a company can do to avoid bad hires but the three keys to not making the costly mistake are:
Thorough Interview Process: Interviewing can be an art and many small and medium size businesses do not have the tools and training to conduct them thoroughly. The Brandon Hall Group research brief found that if a company does not have a standardized hiring process, then they are five times more likely to make a bad hire. Your standard hiring process should include stock interview questions, peer-to-peer evaluation, and other helpful techniques.
"Many interviewers' questions are so benign and accommodating that they fail to uncover a lack of motivation or passion that might prevent someone from succeeding at a job," Carol Quinn told SHRM.
Background Checks and References: Companies often do not follow through and perform adequate background checks on their candidates. It will take time and resources to do comprehensive background checks, including contacting all references, but in the end, it will save the company money and time by avoiding a potentially bad hire.
Professional staffing companies such as PRT Staffing understand this importance, which is why they can put applicants through a screening process that includes in-depth interviews, skill assessment, and reference checks.
Outsource Your Hiring: Companies should not hesitate to outsource their hiring to recruiting professionals. Using an outside company in recruitment and hiring can bring an objective perspective to the process. Outsourcing also ensures that the interview process will be conducted professionally.
Outside hiring companies can also help you measure your hiring success, which is something that only about a third of U.S. companies do, according to the Harvard Business Review.
Some companies specialize in specific industries such as PRT Staffing, which can provide qualified skilled and temporary workers for short- and long-term projects in construction, event, hospitality, energy, and industrial sectors.
Contact PRT Staffing today to find out how our professionals can help your business fill gaps in staffing.