Resume Tips for Little Job Experience
So you have the education and the know-how, but you lack one important thing on their list — experience. It seems kind of unfair that to get experience you must first get hired, right? But here's the good news. With the right strategy, you can land that position even without experience — it's all about how you present your credentials.
In this tough job market, you may be wondering how this is possible when there is a sea of competition. For sure, many of the people applying for the same position have more experience. But never underestimate the power of presenting your potential in the best light. With the right approach, you can make sure your resume gets noticed. These resume tips for people with little job experience will help you put your best foot forward and increase your chance of getting that coveted call back from your potential employer.
Tip #1: Present Your Best — and Relevant— Experience
You don't need to have actual job experience to have "experience". This means you shouldn't flood your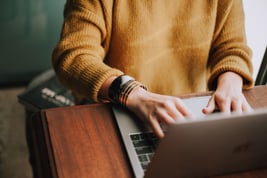 resume with random past experiences just to fill up the page. For example, your experience working retail during high school probably won't give you the boost you need.
Therefore, in your resume, make sure that you put all relevant experience front and center — even if it didn't come from an actual job. Then, take away anything that doesn't help.
Do include training courses for skilled labor, an internship, or personal projects. You can even create a section of your resume called "project experience" to showcase the work you can do with skills relevant to the job you're seeking. For example, if you want a job in tech, presenting some programs you made with code would help substantially.
Tip #2: Use a Professional Resume Template
Employers don't have a lot of time to look over documents, so keep your resume short, sweet, and impactful. A one-page resume template can give your credentials the visual impact required to get noticed. Features of a strong one-page resume include:
A powerful introductory paragraph

High readability with a logical format

Clear, relevant sections that showcase your skills

A short but impactful cover letter
Using a one-page resume forces you to trim any excess information from your resume to present your qualifications efficiently. Whether you're an undergraduate, intern, or entry-level employee, there is a professional template that's right for you.
Tip #3: Highlight Your Strengths
Now that you have the right resume layout and a plan to focus on your relevant experience, it's time to boost your credentials. When you lack actual job experience, it's important to enhance other strengths like your education, volunteer work, key skills, training, and other relevant capabilities. Present these confidently in your resume so that your potential employer will see your very best.
PRT Staffing is proud to provide comprehensive staffing solutions to maximizer your work culture. Contact PRT today to get a smooth pipeline to skilled workers in the construction, industrial and energy, manufacturing, hospitality and events, and disaster recovery sectors.